All teams must have a minimum of 5 players. If a team cannot provide 5 players then the team Captain is to get in touch with the League Secretary ASAP.
The format will be 5 singles, 2 doubles and 1 triples matches. All games are Double to start and Double to finish.
Singles matches will be best of 3 legs, 501, double to start and finish.
Doubles matches will be 1 leg of 1001, double to start and finish.
Trebles match will be 1 leg of 1001, double to start and finish.
Away team are to throw first for the Bull at the start of all games. Closest to the bull will start the 1st and 3rd leg (if applicable). There is no need to throw for the bull if a decider leg is required as person winning the bull at the start will throw first.
Matches must be played in full, with all 8 games being played to conclusion.
In the event of a 4-4 draw the tie breaker will be played. A team of 4 players will play 1 game, 1001, double to start to decide the winners. Team captains must do a draw to decide the order of play for this round i.e a captain chooses his 4 players and places them on a piece of paper or equivalent and then the other captain draws the names to decide the order of throw.
Home team are to mark the scores and away team to provide a checker.
All matches to begin no later than 8.15pm.
All results are to be recorded on the correct score card (League Cup). the Home team Captain is responsible for the photographing and uploading of the result card to the Captains WhatsApp page for the League Secretary to get the results.
NOTE
All rounds for the Knockout Cup will be drawn live as this will determine home and away teams. The only difference will be the semi-finals and finals as these will be played at a neutral venue.
LEAGUE CUP FINAL RESULT
LEAGUE CUP FINAL DRAW
The final of the League Cup will be played on Friday 29th March 2024 as follows:
LEAGUE CUP SEMI FINALS RESULTS
LEAGUE CUP SEMI FINALS DRAW
The semi finals round of the League Cup will be played on Friday 9th February 2024 as follows:
league CUP ROUND 2 RESULTS
league CUP ROUND 2 draw
The second round of the League Cup will be played on Friday 17th November 2023 as follows: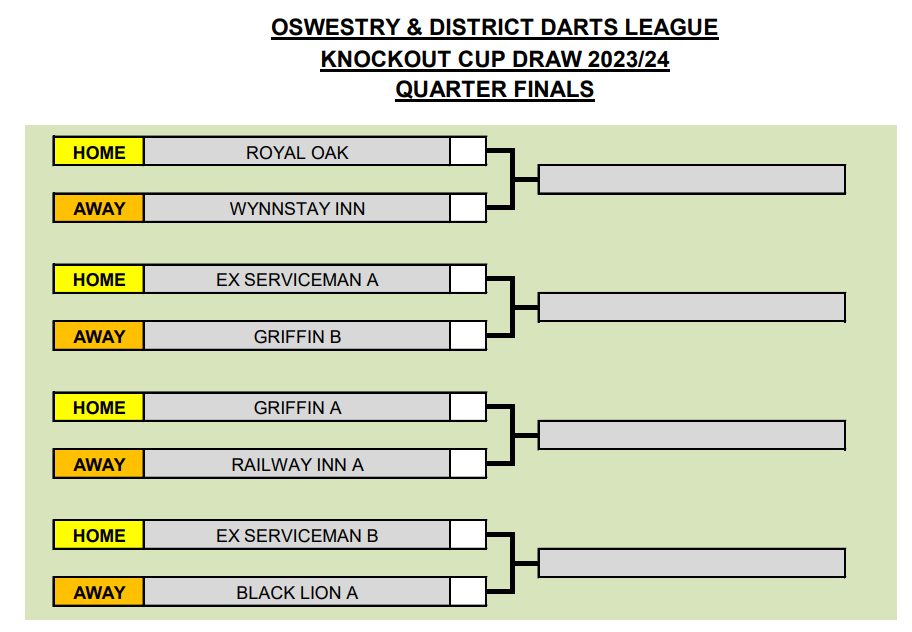 league CUP ROUND 1 RESULTS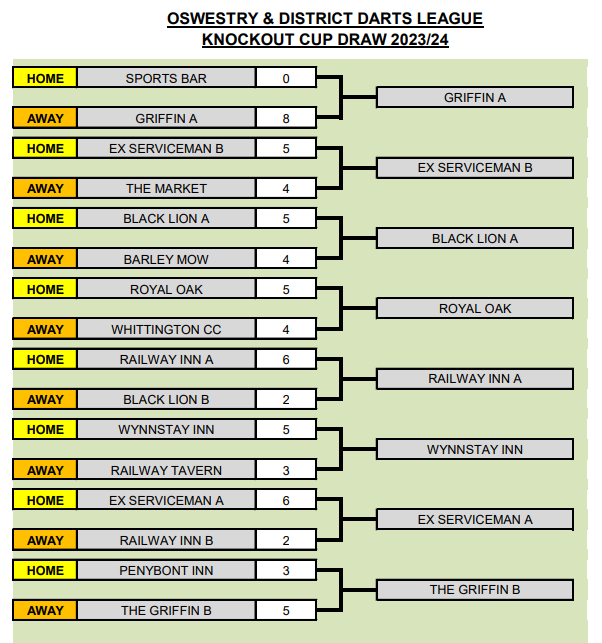 LEAGUE CUP ROUND 1 DRAW
The first round of the League Cup will be played on Friday 29th September 2023 as follows: